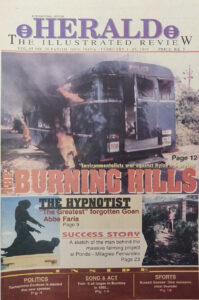 He is better known as a personage in Alexandre Dumas' novel The Count of Monte-Cristo Chateaubriand mentions him, albeit in derogatory terms, in his memoirs. In Goa, he is only vaguely known for his father's cry 'Hi soglli bhaji!' which instantly filled with confidence the faltering preacher son at the royal chapel at Queluz, Portugal.
Precious little remains till date in the memory of the average Goan. There is a statue of him in the capital city and a street takes his name in Margão. He has been forgotten in his native village of Candolim; only a primary school is named after him there and in some other villages too. He is almost unknown where he worked and lived – Lisbon, Paris and Marseilles. Only an obscure street is named after him in Marseilles.
People may not be apt to remember somebody who lived two centuries ago and with a mysterious sounding name such as Abbé Faria. But what if he has some original scientific contribution to his credit? Never mind that he was a theorist of hypnotism by suggestion, which has since become a vital aid to psychiatry, psychoanalysis and surgery. Very often his name is omitted when the subject comes to the fore. Not even does the Encyclopaedia Britannica refer to him as they do Franz Anton Mesmer (1734-1815) and James Braid (1795-1860), who have only usurped his pride of place.
Such has been the fate of José Custódio de Faria (1756-1819), a priest and doctor of theology, who without any medical training did perceive and lend respectability to the true nature of what he called 'sommeil lucide' (lucid sleep). It was an intuition characteristic of a true genius. And for this original contribution to the field of science he is regarded at home as the greatest Goan that ever lived.
Early Life
José Custódio de Faria was born on 31 May 1756, to Caetano Vitorino de Faria of Colvale and Rosa Maria de Souza of Candolim. His father was a seminarian and had already received minor orders when he met and married Rosa, the only daughter of a rich landlord of Candolim. He was clever and she was rich, but the combination did not work out that well. Even their son born two years after their marriage, could not prolong their mutual love. Around the year 1764, they got a canonical decree of separation in 1764. He took holy orders and she joined the Santa Monica convent in the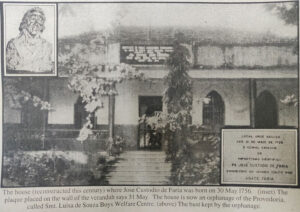 old city of Goa.
No bonds linked them ever since. The father and the son stayed a few years at their friends in Candolim – the Pintos of the Conspiracy fame – and at Colvale too. On 21 February 1771, four years after being ordained a priest, Caetano Vitorino left for Lisbon, en route for Rome, to continue his priestly studies. He had similar intentions for his son. Their social circle in Goa and particularly a letter of recommendation they carried for the nuncio in Lisbon, Mgr. Inocencio Conti, won them access to the royal court. Moreover, the reigning monarch, Dom José I, and his prime minister, the Marquis of Pombal, were favourably disposed towards the Goans, whom they strongly recommended for civil, military and ecclesiastical positions at home.
Student in Rome
Thus José Custódio was awarded a scholarship to study in Rome. The father returned to Lisbon in 1777 on attaining a doctorate to further his objective of objective of being appointed the bishop of Goa. His great disappointment and frustration on this count determined much of what followed in his life and his son's too.
José Custódio stayed on and was ordained on 12 March 1780. At 24 he completed his doctoral thesis titled Theologicae Propositiones: De Existentia Dei, Deo Uno et Divina Revelatione (Theological Propositions on the Existence of God, One God and Divine Revelation) and joined his father in Lisbon.
The duo were good friends but a different purpose animated them.  Caetano Vitorino, the more political minded and diplomatic of the two, was fully immersed in matters Goan. He was a sort of self-appointed protector of and influential reference for the Goan community. The Court had been impressed by the fact that, though immensely influential at the highest levels of the kingdom's administration, he had never asked favours for himself, though it was known that his personal finances were far from bright. But then, intelligence reports began to pin him down as the mastermind and coordinator in Lisbon of a political revolt at home in 1787. As soon as news of this reached Lisbon, they hunted for the duo and their good friends, clerics and laymen.
Meanwhile, all except Fr. Caetano Vitorino had fled to Paris, reportedly to meet and discuss with their envoys of Tipu Sultan, who proposed to be on the French side in their ascendancy against the British in India, but nothing was confirmed in this respect. Others believe that simpler reasons motivated Fr. José Custódio's sudden departure – that he was attracted by the intellectual climate of France. His father did, however, stay back, still persevering in his designs and probably even overestimating his influence with the high officialdom. He was then put under house arrest in the Carmelite convent where he gave his priestly assistance, and probably died in 1799.
In Paris
Nothing is known of Fr. José Custódio's activities in the French capital except that he was accused, in 1792, of being a gambler and frequenter of the Palais-Royale. He was acquitted, or at least no action was taken against him by the police. Three years later, on 5 October 1795, he led a battalion of revolutionaries against the National Convention. This political stand made him popular with the supporters of the Directoire and won him the friendship of the Marquis de Chastenet de Puységur.
The latter relationship was decisive. The Marquis had been a disciple of Mesmer whose quackish furrows into 'animal magnetism' and tall claims of cures had initially won him the acclaim of high Parisian society. But, in 1785, his exit was shameful. The Marquis, on the other hand, was an honest, well-meaning and cultured person, who took over from where Mesmer had left. Dr Egas Moniz, the Portuguese Nobel Prize Winner and biographer of Fr. José Custódio de Faria, speculates that he acquired knowledge of magnetism in Paris after he struck up an acquaintance with the Marquis.
The first news of Fr. Faria's activity as a magnetizer is of the year 1802, in the memoirs of Chateaubriand (published in 1843), who referred to his experiments in derogatory terms. He had dined with Fr. Faria at the house of the Marchionesse of Custine. Here, Fr. Faria reportedly declared that he could kill a canary by magnetizing it. However, when the magnetizer was put to the test, he failed, which led Chateaubriand to conclude: 'O Christian, my presence itself will be enough to make the tripod ineffective!' Chateaubriand was a devout Catholic. He had strong reservations against magnetism – because of the Church's attitude of suspicion towards it.  But what is more is that Fr. José Custódio de Faria was a Catholic, no less!
Fr. José Custódio continued his research into the subject up to the year 1811, when he was appointed professor of Philosophy at the Academy of Marseilles. The Imperial Almanac of 1811 records that he lived there a year and was elected member of a medical society. Since he had no medical qualifications, the membership can only be attributed to his skills as a magnetizer. But for some mysterious reason, he was transferred, in fact, demoted, to the post of auxiliary professor at the Academy of Nimes. He felt slighted and frustrated and, unaccustomed as he was to life in a small city like Nimes, he returned to Paris, in 1813, in search of greener pastures. Unattached to any institution, he initiated his course in magnetism on 11 August 1813, 49, Rue de Clichy.
Sessions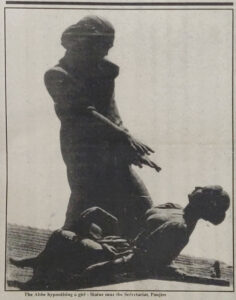 The sessions were held every Thursday, on an admission fee of five francs only. He began with a lecture in halting French. The audience, which consisted largely of women, paid scant attention to this part of the session; their eyes were set on what was to follow – his experiments to substantiate his theory.
Contrary to the claims made by Mesmer, the he could control the body fluids of his patients and rectify their course through special methods invented by him, Fr. José Custódio very humbly put forth that not all individuals could be hypnotised, and that the degree of response to his hypnotic powers necessarily varied from person to person. He was the first to establish that hypnotism was a science of suggestion.
Fr. Faria's method consisted of a series of well-reasoned and effective actions: he got the patient to sit comfortably and, through concentration, to relax, imagining that they were going to sleep. When the patient was 'tranquil', he gave the command, 'Sleep!' and, if necessary, repeated it, with a certain degree of urgency, three or four times. If he failed, he would either sportingly give up or try other methods.
The sessions became the rage of the town. There were detractors, critics and skeptics, no doubt. Once, a journalist attended his session and then unjustly criticised and ridiculed the priest in the press. At another session, a leading stage actor, Potier, offered himself for his experiments. He feigned to be in a trance and suddenly rose to say, 'Ah, Abbé! If you magnetize others as well as you magnetized me, you don't seem to be doing much.'
Fr. José Custódio put up very well with all such betrayals. He also withstood quite stoically criticism from the clergy and Rome, who then viewed his experiments with suspicion always on the look-out for diabolical influences therein. But the priest always expressed respect for the Church and a firm desire to stay within the Catholic fold. 'Un esprit supérieur,' as his disciple Gen. Noizet said of him, he wished to convince the Church that his experiments were fully within the natural realm and that there was no magic or witchcraft involved.
Thus, Fr. Faria took everything in its stride. Only once did he break down, when at Potier's request the playwright Jules Verne put up a play, on 5 September 1816, the Variétés, titled La Magnétismomanie, ridiculing the Goan priest.
Sad end
The time was now ripe for Fr. Faria to stop his activities. He retired soon thereafter, rendering priestly services in exchange for boarding and lodging.
During the last years of his life, he decided to organize his material in book form. It was an ambitious project in four volumes, of which only the first one is known to have appeared. It is his magnum opus is titled De la cause du sommeil lucide ou Étude de la nature de l'homme (On the Cause of Lucid Sleep or Study on the Nature of Man). In it he referred to the shameful play:
'With regard to Magnétismomanie, I cannot ask which laws permit the modern Terence to expose an unknown foreigner to public ridicule. I presume that even the savage would be ashamed to insult his kind, which has nothing in common with actors and the theatre.
'Far from me the idea to disturb public pleasures: But I might have added to Magnétismomanie a new scene – an extremely pungent one – had my condition not prevented me from doing so, and had my own aversion for such amusements not kept me away from playhouses.'
According to one biographer, by a strange coincidence, the day of his death, also marks the release of his book. His famous words, 'There are evils that sometimes do good to those who discern their utility,' might have very well served as his epitaph – if only he had the money for a decent burial. He died at the age of 63, unsung as he was born. A life full of ironies, for born of a rich family he died poor; born of parents who were in love, they separated after his birth; a man with original contributions to posterity, he died with no godfathers to promote his name.
(Herald Illustrated Review, Panjim, Goa. Vol. 95, No. 30, February 1-15 1995. Slightly updated version)