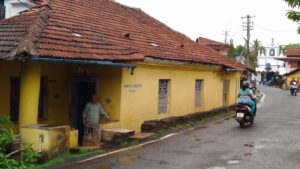 On a rainy morning in June [2018], we went up to the village of Pomburpa, taluka of Bardez, on a visit to the well-known Goan painter, stained glass designer and ceramist Vamona Ananta Sinai Navelcar, whose pen name is Ganesh. Despite his grey hair, he was a picture of rare vitality, and in this chat he comes across as enchantingly feisty. He invited us to see the inner patio of his house which doubles as his atelier.
For the original chat show in Portuguese, see https://www.youtube.com/watch?v=rMgblHr5gk4&t=1s
ON: We are face to face with a canvas [Last Supper] that you are working on… I suppose it's your most recent work…
VN: I started it a week ago and have to deliver it in the next two days…
ON: You work at top speed!
VN: It feels good to work. I have worked on many Last Suppers – more than 30, in Portugal and here…
ON: Do have a penchant for Last Suppers?
VN:  Yes, for Christ! At 8 years of age, I used to read the Bible in Konkani. I was surprised to see what a fine figure Christ is! I became more of a Christian ever since, a disciple of Christ indeed. I think I have nothing of Hinduism, nothing, and I belong totally to Christ…
ON: So you have a relationship…
VN: Yes, yes, there is a mystic relationship between me and Christ.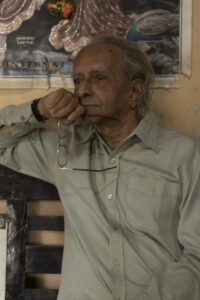 ON: Will this canvas too be signed 'Ganesh'?
VN: Always Ganesh. None of my paintings bear my name alone. It could bear my name but this is always followed by 'Ganesh'.
ON: Why 'Ganesh'?
VN: Ganesh was my elder brother, who died at 16 when I was 8 years old. He was my guide.
ON: Did he inspire you to paint?
VN: My father wouldn't allow me. He wanted me to be a doctor – like Hindus always do. I used to paint on the reverse of the calendars and would hide them when he came.
ON: Do you still have those calendars?
VN: No longer. After so many years… Well, now they would have been worth a lot.
ON: Indeed. But what was your father's grouse against painting?
VN: I think the Hindu community holds art in contempt.
ON: Well, the Hindu civilization has great works of art to their credit… Ajanta and Ellora, for example, and so many other places.… Why the contempt, then?
VN: They are materialistic… What money does art fetch you? Medicine does!
ON: If not an artist, what would you have been?
VN: If not an artist today, I would have continued to be an employee of Chowgule's…. After Matriculation, I began working there; I came across many people, until one day came the inauguration of the Chowgule Mines. Chowgule asked me to draw two portraits: one of him and other of the Governor. I did so. At the inaugural ceremony, the Governor asked the painter's name; Mr Chowgule said it was one of his employees. I was called. The Governor was Bénard Guedes… the first thing he asked me was if I would like to study Art. If so, I could go to Portugal, but I said I would prefer Sri Lanka or Karachi… He said I should go to Portugal, and I said no. He then gave me a month's time to decide, and thus I felt compelled to leave for Portugal. I couldn't speak Portuguese very well then.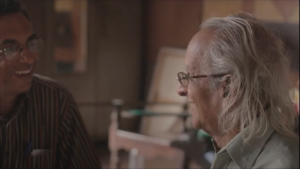 Stay in Portugal
ON: Did you complete your Lyceum in Portugal?
VN: There I did the 5th to the 7th Years of Lyceum; I did it in two years.
ON: After the Lyceum, did you move on to the School of Fine Arts? And how long was the course?
VN: It was a five year course. First it was the general course, then the complementary course. And for the admission test, one day as I was practising drawing, the teacher commented: 'My friend, your drawings are poor. It won't be a good idea to answer the admission test this year.' After a week or so, he had a different opinion. My colleagues too were surprised to see a big leap forward from my first drawing. I stood second in the admission test.
ON: How was the Fine Arts course?
VN: Good. But those teachers knew nothing about other arts, the Oriental arts, Chinese and Japanese; and that India is another world, with a different culture. There was, however, a brilliant teacher, architect Frederico Jorge, who said 'You have an original palette, and bright colours! You have a style of your own. Follow your path.' Then came the Invasion or Liberation of Goa, or whatever you call it. I was stumped when a Goan asked me a very roguish question. I told him that I had nothing to do with Goa, and that the Goans were to blame for whatever had happened, for they never spoke their mind but remained mum. My scholarship was cancelled; they wanted me to speak out against India. Why would I speak out against India?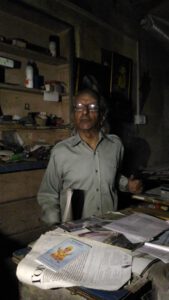 ON: After that you went to Africa…
VN: I had to, because the Government had cut off my scholarship, and there, instead of being posted in Lourenço Marques, I was sent to Nampula. I was stuck there for nine years, without a transfer. The Director lamented that despite being the best qualified teacher I was posted up north.
ON: That was politically motivated, wasn't it?
VN: Yes, but I wasn't disappointed. Truth always prevails.
ON: Satyameva Jayete [em sânscrito: 'A verdade sempre triunfa!'].
Teaching career
ON: Were you happy to be a teacher?
VN: Yes. My aim was to understand the student's technique or to guide them in using their technique, with none of my influence. Or else, they would just be a carbon copy of the teacher…
ON: Well, you let the student enjoy all the freedom!… And how did Africa influence you?
VN: Yes, there is an inadvertent influence of Africa on my paintings.
ON: And what about the people of Africa?
VN: They are a fantastic lot. To me, Africa is the land of Christ…
ON: In what way?
VN: To me, each African face is the face of Christ. Even while in Portugal I didn't feel any Christian influence as I did in Africa…. Africa is Christ's Paradise.
ON: That's a nice expression… Did your style evolve?
VN: Yes, there has been an evolution; and I never repeat myself. What I draw today and tomorrow is completely different.
ON: Do you paint only on canvas?
VN: Really speaking, my specialisation is Stained Glass, a very difficult technique.
ON: Which would you regard as your greatest painting?
VN: None. I'm never happy with my work. I draw but am never happy. I do one and am not happy, another, and still not happy. Some say 'this work is better than that work' but I'm never happy with what I've done, never! And the day I begin to feel that I've done my greatest work it will spell defeat. 'I am nothing, never shall be anything.' These words of Pessoa opened the path of my life.
ON: What's your work schedule? Are you at it every day or only when you feel like it?
VN: I am practically always at work, either drawing or painting.
ON: They say you used to sign your works as 'Ashok'.
VN: That was in the 1950s and 60s; now it is 'Ganesh'.
ON: Are there any particular colours that you like best?
VN: Blue, which is spiritual; and red, which represents violence.
On Three Continents
ON: You've been called "an artist of 3 continents". Did you travel a lot?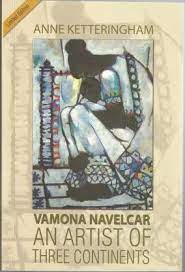 VN: No; Portugal, England, a bit of France, Italy…
ON: Which artists do you admire?
VN: Picasso, Braque, Matisse, Cezanne, Van Gogh…
ON: Do you think artists are different from others, think differently?
VN: Yes. They have a different perspective.
ON: It's clear that you are a sincere man, and you like to stick to the truth.
VN: I speak the truth, and that's why I find myself in the present condition; if not, I would have advanced further.
ON: But your work will be remembered for ever!
VN: Do you think so? My position as an artist is significant. But what has the Government of Goa done for me? Nothing! Today I would have preferred to be in Africa and never to return to Goa, never! It's terrible. I acknowledge my defeat for having returned to Goa. I have to be frank, right?
ON: Oh yes! What were the other options open to you?
VN: To go to Africa and to stay there.
ON: Are you still in touch with your students?  
VN: Yes, with many of them. The Mozambican Minister of Foreign Affairs, Armando Panguene, is a great friend of mine. And his wife was my student at the Lyceum. She is not an artist. She is an Ambassador. A very good lady. She is Armanda, and he is Armando…. When I speak of Mozambique… I get that fever. Wanted to go there…
ON: What was your most memorable experience about Mozambique?
VN: Fraternal friendship.
And as we were about to leave the lovely inner patio of the Navelcar house in Pomburpa, the Master said:
VN: This place is my everything: it is here that I read, sleep, rest…
And we soon got into other details of the Artist…
Navelcar Family
ON: How old is your house?
VN: More than 400 years old.
ON: Is your family from Pomburpa or settled here?
VN: My family hails from Navelim, Divar. They settled here four hundred years ago.
ON: So you were born here, started painting here, and grew up here… And which was your favourite spot?
VN: It was right here.
ON: Well, we find ourselves precisely at the spot of your inspiration…
VN: (Smiles) We would sit here, open these doors and contemplate the rain clouds flying over the house, creating forms that I would relate to the legends of Ramayana and Mahabharata. That influence exists in my works.
ON: Do you like music?
VN: Of course, don't even talk about it! Western classical music, Mozart, Tchaikovsky…. and the Fado. 'Aquela janela virada para o mar' ('A window with a view of the sea')… Mourão… and many others… Amália Rodrigues…
ON: And well, here is a window with a view of the river!…
VN: Precisely. I remember Amália. 'Aquele moreninho', she would say. When I wasn't there she would inquire about my whereabouts… She was a simple person, without any airs.
ON: So you knew her personally. Did you meet her when she visited Goa [in 1990]?
VN: Yes; and I offered her a drawing of mine, at the Kala Academy.
ON: So, when did you leave Portugal for Goa?
VN: In 1976. It was a big mistake…I've got some friends there. Very good people!
Personal Preferences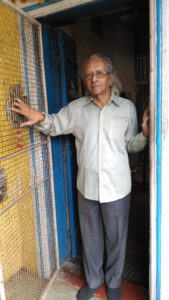 ON: What is your favourite food?
VN: Bacalhau [Gomes] de Sá, sausages, too, and beef.
ON: Well, thank you very much for your time, friendship and generosity.
VN: Today is a very significant day. I am here with friends who have deep friendship towards me and towards Art. Hope this will not be your last visit…
ON: Surely not!
VN: I am very grateful to you for your visit.
ON: The pleasure and honour is ours.
VN: And mine too!
(First published in Revista da Casa de Goa, II Series, No. 14, Jan-Feb 2022)