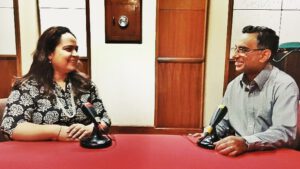 You can listen to the original interview in Portuguese on the YouTube channel of Renascença Goa https://www.youtube.com/watch?v=MUDFr-Lauqo
O.N.: Let's begin our chat with an incident that occurred in November 2017, that is, two months ago. Sónia, you received the Ustaad Bismillah Khan Yuva Puraskar (National Youth Award) from the Government of India, in the traditional music category, which included Mandó, Dulpod, Dekhnni, Konkani Tiatr music and even… the Fado!!!
S.S.: That's true!!
O.N.: That's a great achievement, for it was finally Sónia who made sure that the Fado entered the history of India, and it is now registered as part of the Indian traditional music category…
S.S.: … traditional music of Goa!
O.N.: Congratulations!!
S.S.: Thank you!!
O.N.: It is well known in Goa that you recently launched a very interesting project called 'Fado de Goa'. Could you enlighten us on this?
S.S.: The project 'Fado de Goa' started in the beginning of 2017 and was a result of another project from the year 2016 called 'Fado in the City' – a series of 10 concerts, at various venues in Goa. The idea was to take the Fado to audiences that had never heard, never attended a concert of Fado. At the 'Fado in the City' concerts we've always had people that neither spoke nor had any family member that spoke Portuguese. And I think this was the winning point of 'Fado in the City'. And from there appeared the second project, 'Fado de Goa'…
O.N.: And thanks to this new project, 'Fado in the City' could well be rechristened 'Fado in the City and Countryside'!!
S.S.: Absolutely! 'Fado de Goa' is a different project. These are not concerts but Fado classes. With sponsorship by the Taj Group of Hotels and Resorts we conduct Fado classes. What is interesting is that in Lisbon, which is the land of the Fado, there are no Fado classes, no Fado schools, no Fado teachers. There are Fado singers, obviously, because it is in their blood and soul, and the Fado is in the Lisbon air! But here in Goa, we need classes of Fado… especially the present generation needs it, for they don't have the contact that Goa earlier had… That's because Fado has existed in Goa since the 1800s. We have books that prove that the Fado was already here in the 19th century. Fado was born in Lisbon around the 1830s or 40s, and arrived in Goa as early as the 1890s, or maybe even earlier.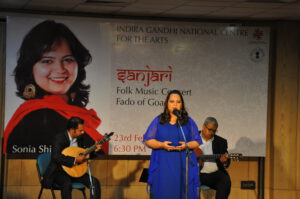 O.N.: But can we be sure that it was Goans who used to sing the Fado, or was it the Portuguese that lived here?
S.S.: The Goan people! Because the booklets that I have, which were printed and published here by Tipografia Rangel, in Bastora, have lyrics and notations of the Fado as well as the Mandó. So, it had to be for people that spoke Konkani.
O.N.: Yes. And just out of curiosity, what were the titles of these fados?
S.S.: There was one titled "O Órfão" ('The Orphan') and another, "Fado".
O.N.: You mean, it had the lyrics as well as music notations…
S.S.: Yes, the lyrics and the music notations! They were booklets for music students to play and sing fado, mandó and other forms.
O.N.: Interesting!
S.S.: Yes, indeed! So we know that the fado has been living here for all this time. Thus, it is one of the forms of traditional music of Goa.
O.N.: And have these fados been performed in Goa? For example, how would it feel to sing "O Órfão" today?
S.S.: I don't know if they could be performed in our time, as the language has also evolved. We are talking of a time span of 200 years back from now. Even in Portugal the spoken language is way different today. And in the fado, lyrics have evolved, the manner of writing the stanzas as well as performing the fado, has changed. So, while I'm not sure if those fados could be performed today, yes, an attempt could be made to modify those old lyrics. Maybe! Who knows!
O.N.: Right! One never knows how it will play out… Well, let's talk now about the Fado classes. What fados are the students learning to sing?
S.S.: In the classes that we have had it was not only singing that was taught but also theory about the Fado, because there is a misconception in Goa that any song in Portuguese is a fado. Which is not so! So, we had to teach the rules of the fado, its history and origin, famous Fadistas – Maria Severa, Amália… of course – the instruments used in the Fado, the places where fado is sung live, areas of the Fado in Lisbon, like Alfama, Bairro Alto and Mouraria; the various categories of fado, what exactly is traditional fado, and such topics. So, it is theory as well as Fado singing that is taught…. We've already had four groups, the first being in Margão, the second in Panjim, the third in Vasco da Gama and the fourth again in Margão.
O.N.: So there has been interest…
S.S.: Yes! And now they've invited us to have a batch in Mapusa plus a second batch in Vasco da Gama.
O.N.: And what are the age groups?
S.S.: We've had batches of about 30 students and in Vasco we ended up having 60 students. From school children up to grandparents!! At times it was such a cute sight!… There were members of the same family, like parents and children, siblings, cousins; we even had a pair comprising a grandfather and his granddaughter… studying together for the final exams. Because there is an exam for all students, written as well as orals.
O.N.: What is the duration of the course?
S.S.: The course is of 10 weekly classes. But at times we had to postpone classes due to school exams or feasts; we've had breaks. So considering everything, I would say it takes about 15 weeks. At the end of this, a ceremony is held where the students are presented a certificate. There are no ranks or grades given; the certificates simply say that the student has completed the course held by Fado de Goa. Because in Lisbon itself, there are no formal courses of Fado, and we are no authority to grade…
O.N.: Who else is associated with the project? For sure, you have a team…
S.S.: Oh, for sure! Absolutely required. The main support comes from the Taj Group of Hotels, who under their Corporate Social Responsibility (CSR) to protect a dying art form have chosen the Fado in Goa… Our team comprises Musician Carlos Manuel Meneses, who is present at all the classes, to accompany the students as they learn. We have an administrator in Marlene Meneses, who coordinates the groups, admissions, communication, etc. We have other musicians, like Orlando de Noronha and Dr Alan Abreu; and we have heads of Fundação Oriente (Goa), Instituto Camões; Spic Macay, which works to protect the classical music of India and are going to include the Fado in that list. So that's our steering committee. We have meetings to decide and steer the project.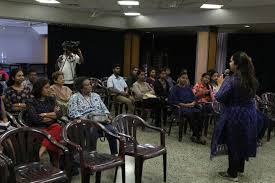 O.N.: So it is really a large-scale project…
S.S.: Yes, indeed! We hope to discover 100 fadistas in Goa!!
O.N.: Excellent! And for sure you hold the key to that…. Well, talking of the Fado, you must have musicians, too… What about training musicians?
S.S.: Yes, we do need to! From among the students of our four batches, after the exams, we've selected students to go to the next level. They are students with potential to sing and who we will train to become fadistas to sing on stage, not merely at parties… and that is where we require musicians. We hope to have a workshop – not finalised when! – of Guitarra Portuguesa (Portuguese Guitar) as well as Viola de Fado (Fado Guitar), for sometimes we can sing the fado without the Portuguese Guitar but we can't do without the Fado Guitar! It is easy, because here in Goa we have so many extremely talented musicians who already play the classical guitar, and only need to learn the technique of accompanying the fado. That's all.
O.N.: Very well! So, we wish you, Sónia, all the best in the project, which doesn't look like a mere project but an adventure with the Fado!…
S.S.: A revolution!
O.N.: A revolution, indeed! We wish you all the best in this adventure and revolution!
Published in Revista da Casa de Goa, Series II, No. 7 (Nov-Dec 2020)