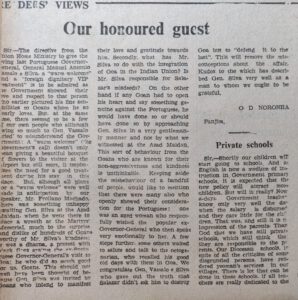 The directive from the Union Home Ministry to give the loving last Portuguese Governor-General, General Manuel Antonio Vassalo e Silva, a "warm welcome" and a "foreign dignitary VIP treatment" is to be admired as the Government showed their love and respect to that person who earlier pictured his fine sensibilities to Goans whom he so dearly loves.
But, at the same time, there seemed to be a few of our own people who although owing so much to Gen. Vassalo tried to misunderstand the Government: A "warm welcome" (the Government's call) doesn't only mean giving a beautiful bouquet of flowers to the visitor at the airport but still more, it emphasizes the need for a good treatment during his stay in this place.
Although all plans for a "warm welcome" were made well in anticipation by our Speaker, Mr Froilano Machado, there was something unhappy awaiting Gen. Silva at the Azad Maidan, when he went there to place a wreath at the Martyrs' Memorial, much to the surprise and dislike of hundreds of Goans worthy of Mr Silva's kindness: it was a dharna, a protest with black flags against the ex-Portuguese Governor-General's visit to Goa; he who did so much good for us Goans. That should not even have been thought of because Gen. Silva was invited by Goans who intend to manifest their love and gratitude towards him. Secondly, what has Mr Silva to do with the integration of Goa into the Indian Union? Is Mr Silva responsible for Salazar's misdeeds?
On the other hand, if any Goan had to open his heart and say something genuine against the Portuguese he would have done so or should have done so by approaching Gen. Silva in a very gentlemanly manner and not by what we witnessed at the Azad Maidan. This sort of behaviour from the Goans who are known for their non-aggressiveness and kindness is unthinkable.
Keeping aside the misbehaviour of a handful of people, I would like to mention that there were many also who openly showed their consideration for the Portuguese: one was an aged woman who respectfully wished the popular ex-Governor-General who then spoke very emotionally to her. A few steps further, some others waited to salute and talk to the octogenarian, who recalled his good old days with them in Goa.
We congratulate Gen. Vassalo e Silva who gave out the truth that Salazar didn't ask him to destroy but to "defend it to the last". This will remove the misconceptions about the affair.
Kudos to the editorial which has described Gen. Silva very well as a man to whom we ought to be grateful.
(Letter to the editor, The Navhind Times, Panjim, 12 June 1980, p. 2)