Quite interestingly, the theme of sowing in the Readings today runs parallel to our monsoon sowing season. The First Reading (Is 55: 10-11) points to how the rain and the snow come down from heaven to help sprout the seed that will ultimately produce the sower's bread. While this speaks volumes of God's magnanimous concern, what follows is a clincher: "… so shall my Word be that goes forth from my mouth; it shall not return to me empty, but it shall accomplish that which I purpose, and prosper in the thing for which I sent it."
Those words coming from the Father find echo in the Gospel's well-known Parable of the Sower (Mt 13: 1-23). Here Jesus speaks of four types of soil – flat, rocky, thorny and fertile – a metaphor for categories of people's minds and hearts. The Sower is God Himself and the seed, His Word, that bears fruit only when our minds and hearts are receptive. The seed does not produce results in soils (read spirits) that are shallow, hard and knotty, for they only pay lip service, or hit back at God's Word, or even stifle it.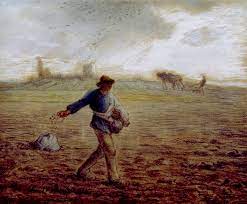 Why did Jesus speak in parables? It was a teaching tradition of His time to tell simple stories in prose or verse; parables comprise some of the very best short stories ever told and have turned into an important literary genre. Parables sometimes come across as riddles but the fact is that they contain profound teachings, central to Jesus' doctrine. That was indeed Jesus' manner of reaching out to folk who were not given to know the secrets of God's Kingdom.
Above all, parables have the purpose of making us aware of real-life situations and have us firmly decide on a course of action. Therefore, we as Christians have a heavy responsibility on our shoulders: we who have been let into the secrets of the Kingdom have to be Sowers of the Seed on God's behalf. We can do this first by learning Catholic doctrine and then evangelizing through word and deed. We need to use our talents in God's service, without worrying about the success of our efforts. We cannot be indifferent to God's call; rather than be seduced by the world, we have to set out eyes on the treasure that lies in Heaven.
Meanwhile, as St Paul in the Second Reading (Eph 1: 3-14) reminds us, we have to be thankful for every spiritual blessing. God has chosen us very especially, inscribed us on the palms of His hands. For our part, we must respond by living a virtuous life. We ought to be thankful for the insights into the mystery of His will and fulfil its purpose. Finally, like the rain and the snow, we must return to Him at the end of the world, forming one body.