The Gospels of the first two Sundays of Lent were devoted to the Temptation in the Desert and the Transfiguration: in the former, the Son of God laid bare His spiritual fibre, while in the latter, the Father expressed His total trust in His Son. Convinced that we have seen the True God, we today focus on the need for an ever-closer encounter with Him.
God has chosen you and me to follow Him; it is up to us to respond. Moses did so by approaching the burning bush; and on behalf of doubting Thomases of all times, he bade God to better identify Himself. God called Himself 'I am' – employing a simple but remarkable verb that pinpoints the core of existence. Closer to our times, French philosopher Descartes famously declared, 'I think, therefore I am'; which A L Thomas presented as: 'I doubt, therefore I think, therefore I am.'
Be that as it may, God's description strikes much deeper: 'I am who I am.' You can't push the boundaries any further. That is because God was present at the beginning of time; He is present now, and ever shall be. In fact, He it is who made Time with a capital T – and, very tenderly, still makes time for us every day! He revealed His greatness and transcendence to Moses but was never aloof. On the contrary, sensitive to the problems of the Israelites, He liberated them from their desperate situation in Egypt.
But if you've been wondering why He doesn't do the same in our day and age – see how criminals have a field day, and despots, none to question them! – be sure that God has not abdicated his responsibilities; He is in our midst and keeps His promises. Chances are we fail to see God in everyday happenings – in the bustle of lives, we hardly make time for Him!
Jesus is the new and greater Moses. He is the Son of God who has spoken to modern man. He is the 'I am' variously qualified: 'I am the Bread of Life,' He said; 'I am the Light of the World'; 'I am the Door'; 'I am the Good Shepherd'; 'I am the Resurrection and the Life'; 'I am the Way and the Truth and the Life'; 'I am the Vine'. He is indeed the Messiah, the Saviour of the World, always there for us.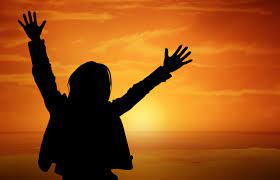 How about a closer encounter God! Like Moses, we too will see the burning bush if we care to do a little bit of soul-searching – by believing, hoping and trusting in God; by loving Him, praising Him, blessing Him, glorifying Him, worshipping and giving Him thanks. Constancy in prayer, fasting, almsgiving, and receiving Our Lord in the Eucharist will make of us living tabernacles of God's Holy Presence.
'We've got a great, big, wonderful God,' haven't we? Let's cultivate a sense of wonder and gratitude! We've had the grace to be born in the Christian fold – let's value our identity! We're called to be the light of the world and salt of the earth – let's show it in real terms!
On the other hand, let's not be reluctant to speak of God and for God. Let's not fall into the temptation to disown the True God and embrace false gods. It will mean a breach of the First Commandment, a mortal sin, and an outrage crying out to Heaven!
At any rate, every saint has had a past and every sinner has got a future. We are those sinners; we have fallen short of the glory of God. Yet, calamities and disgraces that come our way (be it the war or even the covid-19 pandemic) are not punishments but only a natural consequence of the faulty exercise of our free will. They are at best a heavenly reminder of the urgent need for repentance and inner conversion.
Finally, even if God remains a fascinating mystery to our limited minds, we can rest assured that He is a God who blesses, forgives, heals, redeems and crowns us with love and compassion. With humility, contrition and good courage we can have a change of heart, a deeper union, and a fuller communion with Him who is, was and ever shall be – the Lord our God!