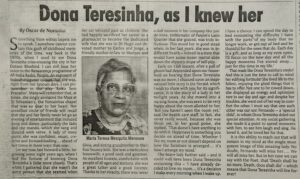 Something from within impels me to speak. I somehow cannot contain this gush of childhood memories of the time, way back in the 1970s, when I used to see Dona Teresinha criss-crossing the city in her Datsun Bluebird. I can still hear her voice in the Renascença programme of All India Radio, Panjim. An exponent of Indo-Portuguese culture that she was, right from her Lyceum days, I can picture her in the play 'Barco Sem Pescador'. Many will remember that, at times, she singly animated the Mass at St Sebastian's, the Fontaínhas chapel that was so dear to her heart. Her steadfast circle of friends will recall that she and her family never let go an evening of entertainment that included song and dance, particularly the fado and the mandó, which she sang and danced with verve. A lady of many parts, she was confident, smart, creative and forward-looking… ahead of her times in more ways than one.
Let me now fast forward a little, beginning some eight years ago, when I had the fortune of knowing Dona Teresinha a little more closely. That's when I gathered that she wasn't the stern person that she seemed when her car whizzed past us children. She had happily sacrificed her career as a pharmacist to become the dedicated wife that she was to Dr Hugo and devoted mother to Carlos and Jorge, a friendly mother-in-law to Marlene and Silvia, and doting grandmother to their four bouncy kids. She was a meticulous housewife, a good cook and gourmet. An excellent hostess, comfortable with people of all ages and stations, she was a great talker and a good listener. Thanks to her vivacity, there was never a dull moment in her company. Her joie de vivre, emblematic of Panjim's Latin Quarter that she graced, was truly infectious: This stood her in good stead when, in her last years, she was in indifferent health – indeed in a state that would have some lesser mortal slide down the slippery slope of self-pity.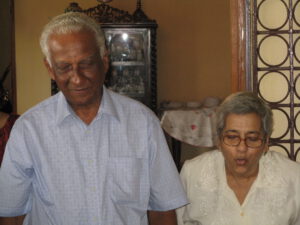 Early on 15th instant, after a pall of gloom had descended upon our household on hearing that Dona Teresinha was no more, I chanced upon an inspirational little story in the Herald, which I wish to share with you for its significance. It is the story of a lady in her twilight years. As she moved into a nursing home, she was seen to be very happy about the room allotted to her. 'But you haven't seen the room yet,' said the health care staff. In fact, she never really would, because she was blind; yet, in her good poise, she replied, 'That doesn't have anything to do with it. Happiness is something you decide on ahead of time. Whether I like my room or not doesn't depend on how the furniture is arranged… it's how I arrange my mind.'
The brave lady further said – and it could well have been Dona Teresinha exclaiming this – 'I have already decided to love my room… it's a decision I make every morning when I wake up. I have a choice: I can spend the day in bed recounting the difficulty I have with the parts of my body that no longer work, or get out of bed and be thankful for the ones that do. Each day is a gift, and as long as my eyes open, I'll focus on the new day and all the happy moments I've stored away… just for this time in my life.'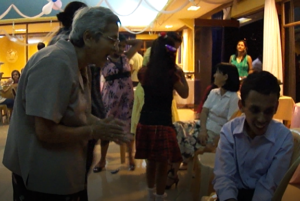 That reads like Dona Teresinha's credo! And this is just the time to call to mind her edifying fortitude! She lived life to the fullest, enjoying the good things that it has to offer. Not one to be cowed down, she displayed an energy and optimism rare in our day and age; and despite her troubles, she went out of her way to comfort the other. I must say that one such other was our son Fernando – a 'special child', to whom Dona Teresinha doled out special attention. At any social gathering she made it a point to spend moments with him, to see him laugh and sing. He loved it, and he loved her for that.
It is this ability to reach out that will remain in my mind as the single most potent image of this amazing lady. No doubt, Fernando will miss her…. We will all miss her. But in her case we can say with the Poet, that 'Death shall be no more. Death, thou shalt die' – which means that Dona Teresinha will live forever!
(Herald, 25 April 2010)