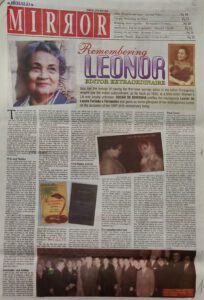 To the dead it probably matters little whether or not they are remembered: having done their bit on earth they now belong to Eternity, where worldly honour and glory are of no consequence. But paying them homage is a cardinal civic virtue – an expression of gratitude for the valuable services rendered by them to the community, which also helps to imbibe sterling values that might well be scarce in a new day and age.
That is what links us to Leonor de Loyola Furtado e Fernandes on her birth centenary. Born on 24th May 1909 to Miguel de Loyola Furtado of Chinchinim and Maria Julieta de Loyola of Orlim, she was married to Martinho António Fernandes of Colvá. She was a woman of many parts but essentially a matriarch and a grand lady of the Fourth Estate.
Wife and Mother
Leonor – Lolita, in her close circle – was a person ahead of her times. She was a career woman with a difference. When the Panjim-based eveninger Diário da Noite (2nd May 1953) asked about the beginning of her occupation, she said, 'I don't remember clearly when I started writing. I know I became a mother at 16 and it must have been after this that I began writing in earnest.'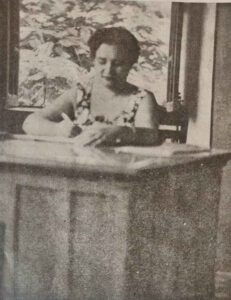 This candid statement of fact was also a reflection of her priorities. No doubt it was a man's world but as a gifted woman she had found her way out. Talking to me (Herald Mirror, 15th September 1996), she said that her professional work never disturbed her duties as a housewife, "because my husband was an intelligent man with humanistic interests at heart. He never interfered in my work as I never did in his. There was a lot of mutual understanding. He gave me the courage to fight for my ideals – even though it might have reflected on him as a government official."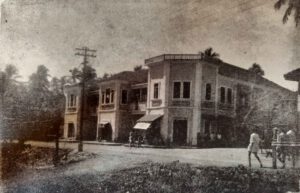 And reflect it did. As Administrator of the Comunidades of Salcete, Martinho Fernandes, a lawyer by training, was dogged by controversy, initially fomented by individuals who eyed his post, while later some of it was fuelled by a heady mix of personal vengeance and political vendetta, thanks to his wife's plain speaking in the weekly A Índia Portuguesa. The incumbent emerged unscathed, through long and tortuous battles up to the apex court.
It must not have been easy for Leonor to weather those storms while she raised four daughters, managed the household chores and the family estates. But the years rolled by and, interestingly, at 39 years of age, she was already a grandmother! In 1950, when that venerable journal, a family heirloom and historic mouthpiece of the pro-native political party called Partido Indiano, founded by the Loyolas of Orlim, was almost folding up, it was born again with Leonor.
Journalist and Author
It was for the first time that in the whole of the Portuguese speaking world and in the Indian sub-continent as well a woman was at the head of a newspaper. This was only a natural consequence of having her father for a role model: apart from being a brilliant physician and political leader, he had edited A Índia Portuguesa from the year 1912 until his sudden demise in 1918, and his memory remained with Leonor for the rest of her days. She once said, 'If destiny were not opposed to it, I would have studied medicine. I had a fascination for the medical profession, so as to positively spread the good to all. But I was born for something else – and I am a journalist only. I would have liked to be a physician and journalist.' (Diário da Noite)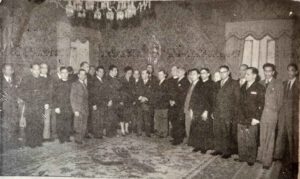 A year after assuming editorship she travelled to Portugal, the only lady in a Goan media delegation comprising Fr Manuel Francisco Lourdes Gomes, Álvaro de Santa Rita Vaz, Amadeu Prazeres da Costa and Luis de Menezes Jr. They had been invited for a month's stay, to see for themselves what the 'mother country' was like. It was a public relations exercise by the Estado Novo, for in March that year the Government had passed an amendment to the controversial Colonial Act, renaming the colonies 'Overseas Provinces' and considering them an integral part of a far-flung Portuguese State. The change of nomenclature reinforced the one-nation theory, in a bid to counter global pressure against European colonization in the post-World War scenario.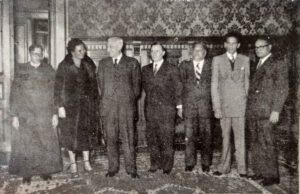 The exercise paid dividends. Members of the delegation sent regular reports to their respective newspapers. On her return, Leonor wrote about what had impressed her, not forgetting the meeting with Premier Oliveira Salazar and the Minister for Overseas Territories, Sarmento Rodrigues. She had spoken to pressmen from continental Portugal and its overseas provinces on different aspects of life in Goa.
This was the first and surely the most memorable of her many visits abroad. Her official trip of 1956, on the fortieth anniversary of Salazar's New State, was marked by the publication of her first book, Salteadores da Honra Alheia na Índia Portuguesa, ('Assailants of People's Honour in Portuguese India'). The curious little book's arresting title and explosive content prompted the Portuguese Governor-General Paulo Bénard Guedes to have it confiscated on its arrival in Goa. While the author's primary intention was to publicize the truth about her husband's professional troubles, these are universalized, turning the book into a "repository of truths that make up our life in India." The picture of a coconut tree and a cobra on its cover probably point to the coexistence of indolence and poison in our land. The evil doings of some prominent individuals and the shady workings of many a public institution are exposed.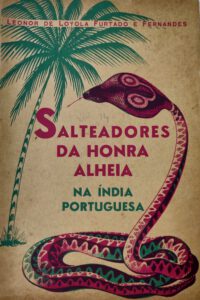 Civil Rights Activist
Leonor was a champion of civil liberties by virtue of her journalism. As a proud descendant of one of Goa's best known families involved in the civil rights movement, she took to it like fish to water. While critical of the administrative faults of the Portuguese regime, she was a moderate in her political aspirations, open to the ideas of decentralization and greater financial autonomy for Goa, emanating from the new Lei Orgânica do Ultramar, and more importantly a zealous protector of the Goan identity, in the pre- and post-1961 regimes. This was clear from her statement upon taking her seat in the legislative council of Portuguese India, in 1961: 'Regimes fall, empires vanish, ideologies die, but the land remains, and we have to work for Goa to remain forever."
Leonor was now left to fight life's battles alone. She had lost her husband in 1960; and under the new political dispensation, even her journal had to change its name to A Índia – just 'India'! She was smart enough not to grudge this, given the fait accompli of the Indian take-over of Goa. But what provoked her ire was that the Comunidades were being given short shrift, enough to have Martinho Fernandes turn in his grave.
In her second book, Contribuição para um Mundo Melhor, a tribute to her husband, printed on her last visit to Lisbon, in 1978, she addresses him on his life's interest, saying, "Do you see the state of our land today, how the Comunidades are faring, and how the land is groaning under injustice?" (p. 8) "Because our people are not rebellious and have not lost their sense of discipline and honesty, there has been no revolution yet," she thunders (p. 14). It is clear that although she wishes to reconcile everything under a positive title ('Contribution for a Better World') nothing can camouflage her combative spirit.
Eye-opening Interview
In 1966, The Current, a well known weekly published from Bombay, invited readers to send in entries for an interview competition to mark the publication's 18th anniversary. Leonor submitted her experiences as editor of A Índia. As one of the four short-listed, she was interviewed by the redoubtable D. F. Karaka, who, curiously, twenty-three years earlier, had been mentioned as one of her favourite authors. It was a rendezvous of two editors sans peur et sans reproche…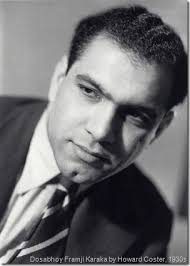 The picture of Leonor that accompanied her "interesting entry" was considered "almost as threatening as the entry itself". On the morning of the interview, a tornado was expected to blow into the newspaper office, bearing a flaming torch in one hand and a sword in the other. Although Leonor fulminated against the police for searching her residence by night, looking for components of bombs and other subversive material used in the Vasco bomb case, "the tornado from Goa was only a gentle breeze", wrote Karaka. Frustrated with their sole discovery, a book titled Invasion and Occupation of Goa (National Secretariat for Information, Lisbon, 1962), containing world press reports on the contentious Goa Question, her Indian passport was impounded when she was on a visit to New Delhi and, back in Goa, censorship was imposed on her paper, with a heavy bond and two sureties made necessary to ensure "due performance of the restrictions".
The intrepid Goan journalist stated that "her fight was against all governments who tried to deprive the people of civil rights and who imposed censorship, whether it was a Portuguese censorship or the censorship dictated by the Indian Government." She especially decried censorship under a democratic set-up. "I wanted to publish in my paper extracts from Inside, which is a Swatantra Party paper. These quotations were cut out by the censors," she said.
Final Years               
Some of her statements to the Bombay tabloid have a familiar ring even today: "The administration has gone rotten. In the (Goa) Assembly, the Opposition has accused the Government of nepotism, communalism, inefficiency and incompetence…. Laws have been passed without going into the constitutional right of the people," she complained.
While she made a case for the preservation of the Goan identity, showing her red-pencilled extracts of Nehru's speech at Siddharth Nagar, Bombay, on 4th June 1956, to redress her own grievance against the Government of Goa, she either met or wrote to Indira Gandhi every time. In her letter of 19th February 1966, she declared, "I believe in a Power above the powers of the world and in justice that comes, sometimes in time, at other times a bit late, in some manner or the other." The restrictions were soon lifted, by a letter dated 13th May 1966, the significance of which day was not lost on Leonor: she was a great believer in the Message that the Mother of Jesus gave on this day, half a century earlier, in her apparition at Fatima, a place Leonor visited on several occasions.
Her meetings with Mrs Gandhi are recounted in Contribuição, which also carries interesting reflections on the period spanning 1961-78; her missives from Portugal, Angola and Mozambique (August-October 1969), which though "innocuous" were responsible for her passport problems yet again; historical snippets about her newspaper; the story of the legendary José Inácio de Loyola Sr.; and photocopies of historic telegrams of the tumultuous days of September 1890.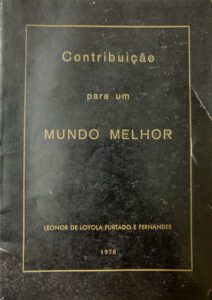 Karaka had found it "heartening to see a woman in her 50s, who had been so disturbed by the turmoil of politics, still crusading for the rights of the people and still having faith in a Power above the powers of the world." Leonor was truly blessed with a deep and empowering faith – or else she would not have endured as a career journalist until December 1975. She said, "I have great faith in Our Lady. Although I have been harassed in my life by the powers on earth, I have never cared or worried." And not surprisingly, when the Angel knocked at her door on 8th January 2005, he must have found Leonor de Loyola Furtado e Fernandes, at the ripe old age of 95, still steadfast in her principles and faithful to her people.
(Herald, 'Mirror', Sunday magazine, 24.05.2009)