Today's Readings are yet another lesson in God's attributes and the kingdom of Heaven that is far beyond all we can imagine. We for our part have to bloom where we are planted, always giving praise and thanks to God for the infinite variety of benefits, blessings and graces received.
The First Reading (Is 55: 6-9) is taken from the last part of the second Book of Isaiah. After God lets His people go into exile, He calls them to conversion. Their exile, albeit temporary, is a time of trial, not unfamiliar to us in our valley of tears. It is always a good idea, then, to let ourselves be conquered by His boundless love for us. All we have to do is align ourselves with Him, and never seek to bend His teachings to suit our personal tastes.
But alas, instead of thus exercising humility and justice, we see man offending God times without number. Some people equate the natural with the supernatural, while others don't even acknowledge the supernatural. Yet others talk of justice in the same breath as they abuse their neighbour; they worship power and money, readily becoming slaves to both, not to speak of those who curry favour with false gods and fail to honour the true God they have known since baptism.
The true God, says the Psalm, is highly to be praised and his greatness immeasurable. It is foolish to imagine that we can count equality with Him, yet He is close to all who call Him. And, as St Paul says, if God is for us, who can be against us? (Cf. Rom 8: 31) Hence, not only love for God, it is a rewarding spiritual exercise to cultivate deep faith, hope and trust in Him. There is no better antidote to fear, tension, stress, and all that bedevils us. He who knows how many hairs are on our head takes care of us.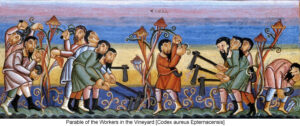 In the Gospel (Mt 20: 1-16), Jesus illustrates the fact that God's thoughts are not our thoughts, and His ways not ours! The parable He recounts shows not a grudging but a generous God – who treats each according to their needs; a God not mathematical in his dealings but magnanimous – and who never fails us; far from egalitarian but extremely empathetic – who comforts and heals. God is the Lord and Master of the universe; the immense difference between Him and us cannot be wished away.
The Gospel text may be a shocker to the world's paymasters and economists; yet, it is more about the Kingdom of Heaven, where rewards follow a different economy! We are not to expect God to pay us according to what we perceive to be our merits; in fact, He knows our backstory better than we do. That is how Jesus revealed to the Pharisees that the goodness of God goes beyond human criteria of compensation and that divine reward is not in keeping with salaries paid by human standards.
This applies not only to individuals, but to societies and nations too. Indeed, the verse that reads "the last will be the first, and the first last" underlines the fact that pagan nations, who were the last to be called by God, have taken precedence over the Jews, who had been called first but rejected Him. And some Bible editions add: "For many are called, but few chosen." A lesson to remember!
Finally, St Paul's pithy statement in the Second Reading (Phil 1: 20-24, 27) says it all: "To me, to live is Christ, and to die is gain." Presently in prison, if they let him live, he promises to work for Christ, and if dead, He would be with Him in Heaven anyway. So, he would be happy either way. To us, maybe the woods are lovely, dark and deep – as the Poet would say – and we have promises to keep, and miles to go before we sleep… At any rate, if through our life we have had God above all else, when we finally do sleep, we will be with Him anyway!
Banner: Mass of Saint Gregory the Great by Master of Portillo (1520-1525). https://rb.gy/qhikf