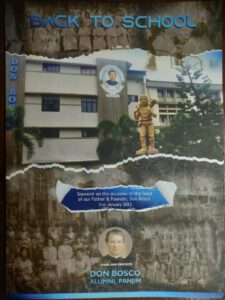 Way back in the 1970s, how did our parents choose from half a dozen schools in Panjim? Don Bosco's must have been the most obvious choice, given its infrastructure and proven track record; it was a dream school to many from far and wide and all stations in life.
Don Bosco's had by far the largest educational campus in the then union territory of Goa. The main, (then) two-storeyed edifice, spacious, bright and airy, housed the school, the priests' residence and the boys' boarding (especially during the Persian Gulf boom). The building was cut across by a passage leading to a new shrine dedicated to Our Lady of Fatima, where Mass for the students, on First Fridays, was a spiritual feast. Elsewhere on the campus, sports facilities were among the best at the time. And to wrap it all up, the school motto, Virtus et Scientia, pointed to a holistic education and recipe for happiness.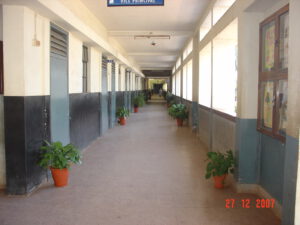 But what man is happy? Only "he who has a healthy body, a resourceful mind and a docile nature," says a philosopher. To our good fortune, that was quite the staple diet we students grew up on; it let Bosco boys stand out not only in academics, but also in intra- and extra-mural pursuits that included music (remember the brass band?); sports (particularly football, basketball and hockey); elocution, debate, and so on. 'All-rounder' was a buzzword, in the run-up to the examination of life.
Needless to say, school was no cakewalk; sometimes there was waywardness, dejection and frustration along the way. But, through it all, the aspirations of the Salesian brotherhood shone bright, distilled into that martial anthem whose lyrics and melody render me nostalgic before they finally pep me up:
We the proud Don Bosco boys
brave Don Bosco brotherhood.
Nursing in our heart the joys
Of true knowledge and the good.
Forward march with equal pace
Through our country's sounding ways
Treading where our fathers trod
In the glorious light of God.

We who are the happy band
Will not shrink from sweat and strife.
In the service of our land
For a brighter cleaner life.
We will toil till out of gloom
Day shall dawn and deserts bloom.
And our country's blessed soil
Shall be green and gold for God.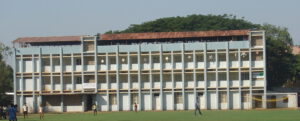 Don Bosco's was clearly ahead of its time. It had a vibrant 'Past Pupils Association'. When alumni found it tough to secure proper lodgings in the bustling capital, a hostel was built for the purpose, at a far end of the campus. So much for connectedness. But perhaps even more distinctive was the Oratory, an institution inspired by the founder St John Bosco himself. The Saint of Turin had realised, in the wake of the Industrial Revolution, that young minds longed for more than just hard skills – they sought loving kindness!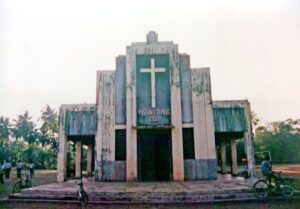 For long, the Oratory functioned in the desacralized, old Fatima chapel located right in the middle of the vast estate; inscribed on its façade were the words 'Visitasti Nos' (You Visited Us, in Italian) commemorating the coming of the Pilgrim Virgin statue there in 1950. The place was a safe haven to a motley crowd that included the less fortunate, poor, and abandoned youth. And even those who did not much fancy the place did feel its magnetic pull at some time or other in their lives!
All things considered, it was a matter of pride to belong to a school where one trained in good citizenship of the church, the country and the world. Catechism and Moral Science classes virtually set the tone. And who can ever forget 'Don Bosco's Seven Tips to Boys' bulleted in the school handbook? They always bear repeating:
Do not waste time.
Do not offend God.
Do not overeat before studying.
Avoid bad companions as poisonous snakes.
Choose some studious boys as friends.
When it's time to play, get in there and play.
Do not daydream! Keep your mind on your books when studying.
Above all, PRAY.
Hopefully, a lot of that wisdom has stayed with the "proud Don Bosco boys" and been passed on to generation-next!
Oh, how all of this seems far back, yet close at hand!… Am I lost in reverie? Be that as it may, our alma mater has her feet firm on the ground; even if at times we have taken her for granted, she, like a doting mother, has been there for us. And whereas her alumni have grown old, she has, thankfully, only grown big! Here I wish to pay homage to my teachers, some of them priests and brothers; and to remember my classmates too: we are now a scattered lot, aren't we? No wonder it feels like a kind of absence….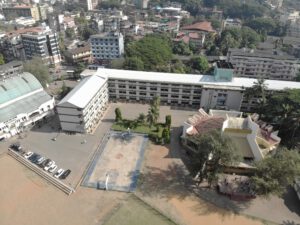 On the occasion of the triple Jubilee, I salute the Salesian family for holding on. Don Bosco's has grown into a splendid oasis amidst a slowly emerging concrete jungle; but then again, weeds of the world must not be allowed to close in on it! Don Bosco's has come a long way, and the Founder's spirit must live on: this will be a clincher for twenty-first century parents waiting to choose from more than half a dozen schools in the city!
(First published in the Souvenir Back to School)
(Banner: https://sdbpanjim.org/newsdetails.php?id=1505; Pics 2 and 3, courtesy Eustaquio Santimano, Flicker)