What a mighty God we serve! Whether we have won a fortune or suffered a misfortune, He conveys a message meant to open our eyes and help mend our ways. In the last two weeks, when we witnessed the tainting of two hallowed arenas (read 'Elephantine Blunder' and 'Mother of all crises' in this blog) – the respective Sunday readings were spot on! But did those concerned take a leaf from the Book of Books? This Sunday, God in His infinite mercy gives us another chance.
The First Reading (Amos 6: 1.4-7), once addressed to the nobility of Israel, is now a message for Everyman, be it in Goa or California. Prophet Amos admonishes those who only eat, drink and make merry; 'lie upon beds of ivory and stretch themselves upon their couches', and show least concern for their suffering brethren. They are beneficiaries of God's munificence, yet 'are not grieved over the ruin of Joseph!' (a reference to the ten tribes of Israel with whom Joseph's name became synonymous).
The Second Reading picks up where the previous one left off. St Paul (1 Tim 6: 11-16) advises the faithful to 'aim at righteousness, godliness, faith, love, steadfastness, gentleness.' How many of us love the truth in its fullness; stand by God at all times; live in deep faith; show love to family and friends; are committed; and, without a hint of pride, are fortiter in re, suaviter in modo – firm in action, gentle in manner?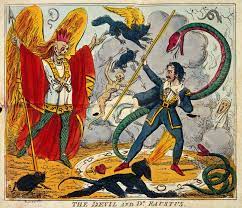 The Gospel (Lk 16: 19-31) puts it all so vividly in a parable. An unnamed rich miser who cared for none but himself is plagued in hell; whereas poor Lazarus, once at his mercy on earth, enjoys the Beatific Vision. As Mephistopheles says in the last Act of Marlowe's The Tragical History of Doctor Faustus: 'Fools that will laugh on earth must weep in hell.' Perhaps the rich man's only charitable thought consisted of a request to God to warn his family, 'lest they also come into this place of torment.'
Finally, if the popstar believes that 'Heaven is a place on earth' and ponders the 'mystery of living'; it is equally important to contemplate the mystery of death. Today, St Luke has invited us to examine the transition from earth to eternity, and work towards a change of heart. St Paul has highlighted God's Kingship vis-à-vis the sinful practice of paying tribute to false gods. He warmly exhorts us to heed God's Word, 'fight the good fight of the faith', and praise to the Lord Who gives life to all things, 'Who alone has immortality and dwells in unapproachable light'. Meanwhile, let's spare a thought for the other and we will receive a hundredfold.