Today's readings form an exceedingly beautiful trilogy. The folly of vanity is illustrated with a parable and rounded off with a nugget of wisdom about gazing heavenward. They make an interesting counterpoint to the capricious lifestyle of contemporary man.
Did you know that there was a time when 'vanity' simply meant 'emptiness' or 'uselessness' (from the Latin vanitas)? When used to represent arrogant or boastful obsession with one's appearance, possessions or accomplishments, it underlined the same meaning. The original Hebrew term, sometimes translated as 'illusion of illusions', literally meant breath, wind, vapour, implying that things are uncertain, empty, futile.
The First Reading (Eccl. 1: 2; 2: 21-23) could not put it better. Life is indeed a string of vanities! Omnia vanitas: all is vanity. In fact, everything that is extravagant – and not useful or indispensable – is usually conceited: it focusses on the earthly creator and forgets the Divine Creator. This aspect of fallen man is something that Ecclesiastes, one of the 'Wisdom Books' of the Old Testament, has bared to thinkers and commoners alike. When its anonymous author says that there is 'a time to be born and a time to die', he tells us in no uncertain terms that life is brief and death inevitable.
That we are not masters of our destiny; that what we do lasts brief hours and weeks; that death comes like a thief: such thoughts flood our mind as we hear the Parable of the Rich Fool. Why, then, do siblings fight over land or even honest people build mansions to keep up with the Joneses? Is it not true that we must seek first the kingdom of God and the rest will be given unto us? How about burying our egos, surrendering to God's will and giving up our acquisitive instinct for things that genuinely matter?
In today's Gospel (Lk 12: 13-21), Jesus asks: 'The things you have prepared, whose will they be?' That's a very pertinent question, for alas, how we take solace, nay, pride, in the abundance of our possessions, as though we are going to live for ever! But then, Covid-19 has taught us someting as perhaps only Covid can: that our life can change in an instant and from one day to another we may be catapulted to the presence of God. That's when we will learn, albeit late, the full import of these words from Deuteronomy, with which Jesus shot down the devil in the desert: 'Man does not live by bread alone but by every word that comes from the mouth of God.'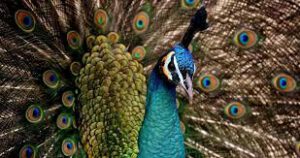 In effect, we are faced with an existential question: are we to sell everything, pack up our bags and head to the nearby forest? Clearly, not everybody is called for so radical a decision. We have to live in the world without being of the world; for it is not where we live, but how we live, that matters. Hence, St Paul, in the Second Reading (Col. 3: 1-5, 9-11), exhorts us to seek the things that are above, where Christ is; to set our eyes not on things that are on earth. He sets before our eyes a catalogue of vices that our old self has to be stripped of, and five virtues that our new self has to be clothed with, through baptism: a radical transformation by the action of the Holy Spirit.
But is it all that straightforward? In the world today, it is difficult to be a Christian – not because Christ's teachings have lost their relevance but because we seem to have lost our conviction. It is true that the secular powers-that-be are continually conspiring to splinter Our Lord's precepts; on the other hand, haven't the spiritual powers-that-be played to the gallery and capitulated to the ways of the world? And what are you and I doing to clear the stables? To be ruled by evil men is the price we pay for indifference to civil and ecclesiastical affairs!
The question remains: how do we proceed from here? Flashing before my eyes is St Pope Pius X's motto: Instaurare omnia in Christ, to restore all things in Christ. To be committed Catholics, living the Gospel values to the best of our abilities, a life in communion with the Resurrected Lord should be our goal. The said Pope was acclaimed for his efforts to root out the Modernist heresy, which he dubbed 'the synthesis of all heresies', in his Encyclical titled Pascendi Dominici Gregis (8.9.1907). Much as we are programmed to love the word 'modern', Modernism represented an agnostic doctrine that attempted to pull the rug from under the Catholic faith. And, alas, it still does!
The trilogy of readings today invites us to go beyond self and see the world as it is. Isn't vanity the leitmotif of the contemporary world? A culture of death is being promoted disguised as the culture of life. Engrossed as we are in our own personal worlds, more often than not we miss the larger picture. In fact, you and I unknowingly aid the advance of those cultural forces by the choices that we make every single day. It is high time we shunned the clutter outside and saved ourselves of that painful emptiness inside. Let not the city lights overwhelm us; let us switch our vanity lights and set our gaze on the True Light of the World.
Finally, on the Feast of St Ignatius of Loyola, let us pray that the words he famously said to St Francis Xavier soften our hearts too: 'What does it profit a man if he gains the whole world and loses his soul?' (Mt 16: 26; Mk 8: 36)