Do you wake up listless and dejected, upset about things not going your way? Do you dismiss a brand-new day as just another ordinary day? Well, if we give time to time, we might suddenly see things changing unexpectedly. What's more, we will find that all things are possible – especially the impossible – when we are sustained by God's Word! That's putting things in perspective.
In the First Reading (Gen 18: 1-10), we are privy to a miracle. If Abraham, kind and obliging even at a ripe old age, seems to be without a worry in the world, it may help to know that he and his wife Sarah were heartbroken but had lovingly come to accept their situation. Abraham obliges his guests, not because he sees something in it for him but because he is an honourable man. The threesome leave before long – but not without announcing the good news that Sarah will bear a child. No doubt she laughs it off (note that Mary in her own case wondered, 'how can this be'!) – but so it is: she gives birth to Isaac, a name that means just that: 'he who laughs' or 'he who rejoices'! In short, nothing is impossible with God!
The Gospel (Lk 10: 38-42) has a matching situation. Here, Jesus is hosted by Martha and Mary. The elder sister's busy chores are her presents for Jesus; the younger one, awestruck by every word that Jesus utters, honours Him with her presence. Truly, if simple living and high thinking is what a self-respecting guest values, it is more so Jesus, who is always about His Father's business. Mary makes these words her own: 'Speak, Lord, your servant hears; you have the words of eternal life.' And Jesus praises her, for she has 'chosen the good portion, which shall not be taken away from her.'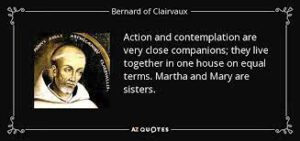 My dear departed grandmother used to say that faith and education none can take away from us. After all, that is what matters, for man does not live by bread alone but by every word that comes out of the mouth of God. So, when it is the Living Word alone that can sustain us, why settle for less? But alas, how often do we think of God in our everyday chores? How zealously do we mention Him at our glitzy social gatherings? How well do we recognise the voice of God in our daily encounters? Note that if Abraham were to despise the three men – seen as God Himself with two angels or, alternatively, God the Son and God the Holy Spirit – the 'Father of Many Nations' would have been father of none. Like Abraham, let's get our priorities straight!
Can we rightfully say with St Paul in the Second Reading (1 Col: 24-28): 'I rejoice in my sufferings for your [the Colossians] sake, and in my flesh [through his body] I complete what is lacking in Christ's afflictions for the sake of his body, that is, the Church'? As Christians, we are duty-bound to shun sadness and joyfully put our belief, hope and trust in the Lord – and then go on to love God and our neighbour as ourselves. We must stand firm for ever, as the Psalm says; if not, how will we admitted to the holy mountain?
To conclude, if all work and no play make Jack a dull boy, imagine how dull – and empty – we should feel if we always work and never pray! Let us make it a point to set aside quality time for God, listen to His voice and do His holy will. Let us delight in the presence of God and bless His Holy Name. Let's not get too caught up with worldly things; rather, like Mary, let's choose the good portion, and everything will fall in place. Let us balance action with contemplation.
Just as Jesus was not going to be with His friends for too long, we too will not live too long on this earth, will we? Let us, then, receive God in our hearths and homes today, so He recognises us tomorrow, when we knock on Heaven's door!