The readings of the fifth Sunday of Lent (Is 43: 16-21; Phil 3: 8-14; Jn 8: 1-11) invite us to be humble, show love and mercy to our neighbour and, in turn, experience God's loving kindness. They illustrate the same challenge and hope that we daily encounter in the Lord's Prayer: 'Forgive us our trespasses as we forgive those who trespass against us.'
Who can deny that by our modern, rationalist approach to life we are easily given to pride and pessimism? This is the bane of our times. But, as Christians, we cannot allow ourselves to lose hope; the Israelites hoped in God and He rescued them from Babylon. And does He not rescue us from the vagaries of our individual and collective lives? He is a great, big, wonderful God, always opening up 'a way in the wilderness and rivers in the desert.' He bids us to refrain from dwelling on the past, on the things of old; he wants us to become a new people, for whom He will do marvellous new things.
It is obvious that God is not dead; He is present in history and continues to fulfil His work of salvation in the Church and the world at large. He knows each and every one of us so intimately and loves us so tenderly that only an unfeeling person will fail to reciprocate. For his part, St Paul says, 'Once I found Christ, all those things that I might have considered profit, I reckoned as loss… garbage.' The Apostle of the Gentiles employs superlatives only to better express the absolute value that is Christ, the Son of the Living God.
Knowing Christ is by far the highest ideal that a Christian can desire. It is not a mere intellectual knowledge of Him but a personal relationship with Him. that. Notice how Saul who was once a persecutor of Christ turned out to be one of His greatest advocates, Paul: he who was a sinner was completely transformed by his faith in Christ. Likewise, Jesus who has crossed from death to life helps us cross from a life of sin to a life of grace. Let us praise and thank Him for kindly conquering us.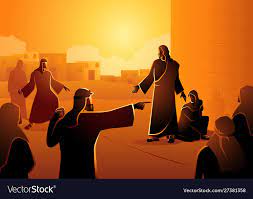 Finally, the Gospel passage: a luminous example of how God welcomes us with arms open wide. The moment He finds even a hint of repentance in our hearts, His healing power is at work in us. The adulterous woman's dramatic encounter with Jesus is an example of God's infinite love and mercy. Jesus does not condone her act – 'Sin no more', He tells her, in no uncertain terms – but He forgives her fault. Our Creator, who knows best how we are engaged in a hard battle against sin, is always there for us.
What a lesson that is for us who take the moral high ground! Are we not swift to detect the speck in another's eye while failing to see the log in our own? About the Scribes and Pharisees who brought that woman to Jesus, says Fulton Sheen in his Life of Christ: 'So set were they on their barren controversy with the Messiah that they did not scruple to use a woman's shame to score a point.' That is the bitterest degradation a woman could suffer. The charge being almost irrefutable, how would Our Lord choose between the Law of Moses, which ordered death by stoning, and His own prescription of love and mercy?
It was a tricky matter. The Roman rulers reserved the right to impose a death penalty, whereas by the Mosaic Law an adulterous woman was to be stoned by the people. Which of the laws would Jesus apply to her? Either choice would be an affront to the other. Further, if Jesus had condemned the woman, they would say He was not merciful; if He had condoned her act, He would be contravening the Mosaic law. And what is more, by disobeying this divine directive, He would be negating His own divinity. Hence, their knotty question: 'What do you say about her?'
As the popular saying goes, 'Those who live in glass houses should not throw stones.' Jesus expressed it in more challenging terms: 'Let him who is without sin among you be the first to throw a stone at her.' Who was fit enough to defend or execute the Mosaic Law? They were sinners, yet accusers; whereas Our Lord, the only Innocent One, refrained from accusing. His mission was to save the soul. He had said in the Sermon on the Mount, 'Pass no judgement, and you will not be judged, for as you judge others, so will you yourselves be judged, and whatever measure you deal out to others will be dealt back to you.'
Then again, there is the question of gender discrimination (glaring to our modern eyes): what about men involved in that reprehensible act? Why would they go scot-free? These and many other issues only Jesus, who was man and God, could resolve: He had come not to destroy the law but to perfect and fulfil it!
Today, Jesus invites us particularly to check the state of our souls rather than comment on our neighbours'. Let us admit to our sinfulness and be committed to change our miserable lives; and should we wish to fix our broken world, let love, fraternal correction and mercy be our tools. God will then put His finishing touches to our efforts, with His infinite love and mercy.
(Banner: Rubens, 'Christ and the woman caught in adultery')