This Sunday's readings[1], short but powerful, provide an apt runup to Lent that is three days away. While the first and third readings help us reflect on the nature of earthly life, the second puts the spotlight on our eternal destiny.
The Book of Sirach (also called Ecclesiasticus, as it was frequently read in churches) captures some eternal truths. Written two centuries before Christ, by Jewish scribe Ben Sirach, it points to God as the fount of all knowledge. This is pertinent, particularly as we reel under foolish diktats that can trigger a world war. Can there be any doubt that 'violence covers the mouth of the wicked'? (cf. Prov. 10:11) So, we must beware of those who craftily try and win friends and influence people; since sweet talk masks some people's intentions, we must wait until they are unmasked by their actions. To know who and when and why, only in God we trust; He alone can discern the workings of the human heart.
For our part, could we examine the nature of our thoughts, words and deeds? If we cannot control our thoughts, let us at least keep guard on our tongues, and our actions will take care of themselves. And what of our relationships? Do we listen more than we speak, or do we pretend to teach what we ourselves need to learn! Our Lord has said, 'No disciple is superior to the teacher; but when fully trained, every disciple will be like his teacher.' When we pattern ourselves after the Master, rather than after a local celebrity or star, we grow in self-knowledge and will readily thank God night and day. The Psalm says, 'It is good to give thanks to the Lord, to sing praise to your name, O Most High; to proclaim your kindness at dawn and your faithfulness throughout the night.'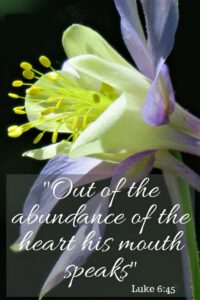 After all, whether we live or die, we belong to the Lord. It behoves us to proceed with humility, gentleness, and patience, and to accept each other with love. And whether trained or not, we are not to look down upon the other, or to try and remove a speck from another's eye when our own is laden with a bar! We have to particularly mind our tongues; they are mightier than our hands when it comes to breaking a heart. 'The good man out of the good treasure of his heart produces good, and the evil man out of his evil treasure produces evil; for out of the abundance of the heart his mouth speaks.' So, let our thoughts, words and actions tell of our relationship with the Lord.
When we as followers of Christ avoid all wrongdoing, we don't turn passive! On the contrary, we get to focus on our mighty vocation: to build God's kingdom. Through baptism, we are called to be – like Jesus – priest, prophet and king: to bring others to God and God to others; to give voice to the voiceless, and to use our time and talent for the common good. That is a threefold call to holiness. Needless to say, after having fought the good fight, finished our course, and kept the faith, there will be laid up for us a crown of justice. (cf. Tim 4:8)
Which is why St Paul is not intimated by death: perishable beings turn imperishable, and mortals put on immortality, says he. His treatment of the theme is so engaging that many a play and novel, song and film have celebrated the verse 'Death is swallowed up in victory / O Death, where is thy victory? / O Death, where is thy sting?' Particularly striking is John Donne's sonnet which, while personifying death, humorously yet profoundly argues against its power. And while the sixteenth-century English clergyman and metaphysical poet ends his devotional lyric with a strong prediction: 'Death, thou shalt die!'; the Apostle of the Gentiles ends his letter with a warm assurance: 'Be steadfast, immovable, always abounding in the work of the Lord, knowing that in the Lord your labour is not in vain.' Interestingly, thoughts about that treasure which lies in Heaven can give our life on earth an exciting new direction.
[1] Sir 27:5-8; Ps 91:2-3,13-14,15; 1Cor 15:54-58; Lk 6:39-43