Selecting the right path, both literally and figuratively, is the central theme of American poet Robert Frost's 'The Road Not Taken'. The poem was prompted by the continual state of indecision faced by an English writer-friend of his. When the two went for walks, his friend always found it difficult to choose a route, and even after all that fuss was over, he sighed over the opportunities missed on the other route.
The poem popped into my mind as I was going through the Mass readings. We have Isaiah (6:1-2A, 3-8), Paul (1 Cor 15:1-11) and Peter (Lk 5:1-11), three Biblical heavyweights. Like Jeremiah last Sunday, they too faltered at first, then made a leap of faith. They received their calls quite differently but, animated by the love of God, they had the same goal in mind. And unlike the man in the poem, they never regretted the road they had taken. In fact, they were convinced, they persevered under trials, and received the crown of life.
Isaiah receives his prophetic call at the feast of Atonement. In the temple, he had visions of the heavenly court. He did not get to see God face to face; he only glimpsed the train of his garment and heard the quake and the smoke – signs of God's presence. As he heard the angels sing the Sanctus (the same that we now hear at Mass) he began to feel anxious about his sinful state vis-à-vis God's presence. He anticipated death but instead was healed by the touch of a burning coal. Fired thus with God's spirit, he gave his fiat: 'Here I am! Send me!'
Isaiah was ready to go as God's messenger, and so was Saul after he became Paul. Initially a persecutor of the Christians, Paul's dramatic encounter with Jesus on the high road to Damascus changed it all. He offered himself without reservation to God's service. He undertook four missionary journeys and came to be called 'Apostle of the Gentiles'. And as there were misgivings about Jesus' death and resurrection, Paul proclaimed it as an undeniable fact and, for him, a life-changing experience. About the Resurrection, which is at the heart of the Christian message, Paul said emphatically that, without it, 'our faith is futile'.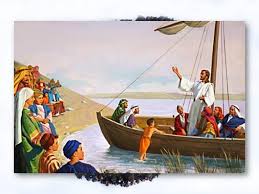 Whereas Isaiah was timid, and Paul who was conceited became humble after his personal experience of God, Simon Peter for his part was a rustic character. Jesus, however, did not look at his intellect but at his heart. A fisherman and unlettered though he was, Jesus made of him a fisher of men. Peter eventually became greater than all men of letters put together, schooled as he was in the knowledge and the love of God. He was in awe of Jesus, and on hearing His soothing words – 'Do not be afraid. You will catch people from now on' – Peter and his fellow fishermen James and John left everything and followed Him.
You and I, who are called to live out our baptismal vocation of priest, prophet and king, where do we stand? Do we believe that we should leave everything and follow Him? Or, do we, like the poet, see two paths, unsure which to choose?
Really speaking, Christians have only one path before them: to be messengers of God's salvation and grace by the apostolate of presence. We are called to be the light of the world and the salt of the earth, such that the temporal is soaked in the Christian spirit. Indeed, we must not let ourselves be blinded by the city lights; we must not be lured by ideologies that lead us astray from the path of truth and justice; we must rather be committed to the only life-giver, Jesus Christ. He is the Way, the Truth and the Life. He shows us the road to Eternal Life. This cannot but be a road well taken.