Legacy
Money, power and fame meant little to Mário; he felt humbled by recognition coming his way. The Indian Government conferred two civilian honours upon him: the Padma Shri in 1988 and the Padma Bhushan in 2002. In 2007, he received the Goa State Cultural Award. In 2009, King Juan Carlos bestowed on him the Cross of the Order of Isabel the Catholic, Spain's highest civilian honour; and Portugal knighted him as Commander of the Order of Prince Henry.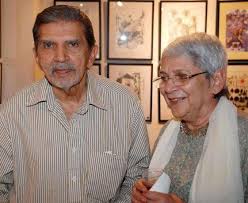 Despite his celebrity status Mário was a self-effacing person. Crafting a lighter finale to his twilight years, he returned to his watercolours and his piano. His sister Fátima notes that in his attempts at nature drawing, the dominant colour was a light grey, resembling clouds, interspersed with spots of light pink.[88] But he gave it up when he fell victim to Parkinson's – stopping short of that one brushstroke that might create a blob and spoil the painting!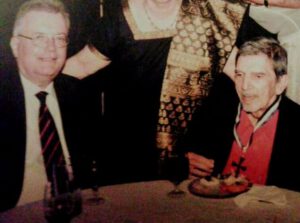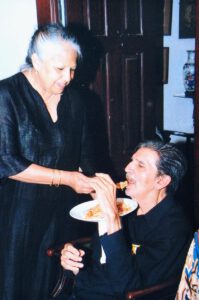 Although a little dispirited, Mário ploughed on. He rarely missed a music show or dining out; a sporadic religious event at home or a chance meeting with an old acquaintance could easily moisten his eyes. He kept in touch with old friends and new, remaining his shy and wry self to the very end.
The sad finish came but gently, in his sleep, on 11th December 2011. His earthly journey concluded with a requiem mass at the parish church of the Saviour of the World, Loutulim. He was cremated in Margão and his ashes strewn over the Zuari at Rachol.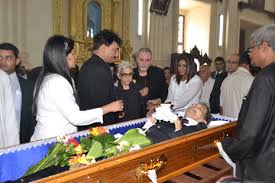 Tributes kept pouring in. In 2012, Mário was awarded the Padma Vibhushan, India's second highest civilian award. On his 90th birth anniversary, Bombay named a road junction after him and Google featured a doodle showcasing a typical Bombay neighbourhood scene in the rains. In 2017, when Portuguese Prime Minister António Costa visited Goa, the country's Medal of Cultural Merit was handed to Habiba (d. 2021). This year, Jazz Goa is due to celebrate 'World Goa Day' with Mário's iconic cartoons coming to life in song.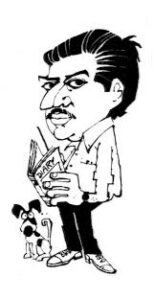 Mário was a man of few words; but no words will suffice to describe his 'glocal' art. Luckily, his creations speak for him; they are amusing, magical, even therapeutic, so to say, and of perennial relevance. 'Whether he has drawn priest, poet, or peasant, he has revealed the innate Goanness in each. Behind every creation of his there lies a hidden, mysterious, delicious, and sometimes malicious humour,'[89] writes Vamona Navelcar. And, of course, beyond the Goanness lies the humaneness of a man who thought locally, acted globally.
Mário is undoubtedly Miranda, the highly regarded one: 'Your name from hence immortal life shall have.' In addition to efforts put in by private institutions in Goa,[90] a permanent State-sponsored set-up[91] is important, to ensure that Mário lives into the next generation. Goa owes it to the man whose work, according to José Pereira, is 'the most accomplished interpretation yet'[92] of the Goan ethos. His was a popular and powerful presentation to a global audience. Many still travel from far and wide in quest of Mário's Goa; all being well, they will always find both Mário and Goa!
---
Acknowledgements: (1) I am indebted to Fátima Miranda Figueiredo for her knowledge and patience translated into many hours of whatsapp chats about her brother Mário and the family; and to Raul and Rishaad de Miranda for their warm welcome and lively conversation. (2) Banner picture: Portrait Atelier Goa (3) Article first published in Revista da Casa de Goa, Lisbon, Series II, No. 12, Sep-Oct 2021
---
[88] As told by Fátima Miranda Figueiredo, 22.5.2021.
[89] 'The Flowering of Goan Art', by Vamona Ananta Sinai Navelcar, in Goa: Aparanta – Land Beyond the End, ed. Victor Rangel-Ribeiro (Vasco da Gama: Goa Publications Pvt Ltd, 2008), p. 126.
[90] Private initiatives by Mário Gallery, Azulejos de Goa, Velha Goa and Sunaparanta Centre for the Arts.
[91] Note the fiasco at Reis Magos Gallery, cf. https://www.heraldgoa.in/Cafe/Brushing-aside-Mario-Miranda%E2%80%99s-works-at-Reis-Magos-Fort/123554 Retrieved on 22 Aug 2021
[92] 'Foreword', by José Pereira, in Goa with Love (Goa: Goa Tours, 1982), p. 4.