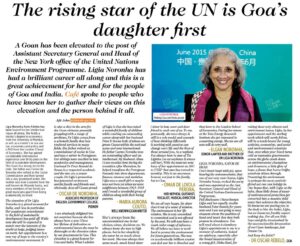 Ligia Noronha is perhaps the first Goan to be appointed to a high post at the United Nations Secretariat in New York. This is what I said when Ajit John of the Herald when contacted for a comment: 
The elevation of Dr Ligia Noronha is a proud moment for India, and Goa in particular. Her passionate commitment to the field of sustainable development has paid off. While now she will be expected to watch over the interests of the world at large, judging issues on merit, her appointment is a new ray of hope to the country's environmental movement. It is also a shot in the arm for the Goan citizenry presently grappling with a range of problems.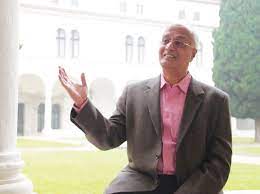 Dr Ligia comes from a scholarly family that has rendered services in many fields. Her father retired as commissioner of excise in Goa and was a writer in Portuguese. Her siblings have excelled in law, academics and management. Husband Dr Peter Ronald de Souza is a respected academic and the two are a power couple.
Dr Ligia's promotion has generated excitement amidst family and friends and, obviously, does all Goans proud.
https://www.heraldgoa.in/Cafe/The-rising-star-of-the-UN-is-Goa%E2%80%99s-daughter-first/171547