Frustrating shortages of fuel, electric power, food items and even water – you and I have seen them all, but none as acute and protracted as the present one. It's been a rough time, without water and home-cooked food… No water, despite the copious rain; no food, despite loads of raw materials at home.
If I remember right, the water scarcity scenario in Goa goes back to the 1980s. My father was indignant. No doubt Goan households had always depended on private or public wells; and Panjim, on two excellent springs (Boca da Vaca and Fénix) and retail sales of water from house to house. But, right from the 1950s, thanks to the commissioning of Opa, the capital enjoyed potable piped water round the clock. In the 1970s, however, water rationing began – the same way as commodities at 'fair price shops'. And by the 80s, the situation was almost back to square one. Ironically, the capital city was the first to experience parched throats.
On such occasions my father's pointed comment used to be: 'We have joined the national mainstream!'
Much as water rationing enervated him, poor Papa would be ready with his kit – pipes, barrels, et al. – and rise to the occasion every single morning. Overhead tanks didn't exist in the old Indo-Portuguese houses then. On days when there was no supply at all, it felt odd to hire men to fetch water from a well in the Garcia de Orta municipal garden nearby. When not even men were available, we boys did it ourselves: we carried buckets and cans across the street, much like those rural Indian women you see on TV today, trudging distances for the same purpose. On such occasions my father's pointed comment used to be: 'We have joined the national mainstream!'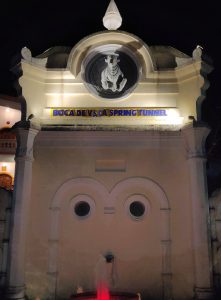 Dear Mama would panic about having to feed seven mouths and more. No water, no cooking! And those were the days when relatives from far-flung villages, on expectant visits to charming Panjim, would sometimes drop by without notice – it was the done thing, you know! At seeing us waterless, their faces would go pale. Generally, minutes after waxing eloquent on the joys of village life, they would get down to brass tacks, thinking of ways to sort out the problem. Quite often, on subsequent visits to the city, they would bring us a few cans of water, all the way from their homes in Curtorim and Loutulim…
Down the years, through a reckless movement from a rural to a semi-urban/urban status across the length and breadth of our idyllic territory, some capital errors (pun intended) spread like an inflammation to the countryside. Who would think that in the cities, private and public wells would be filled up to make for a bonus patch of land? And who would imagine that villages would no longer hold their ancestral wells dear to their hearts? Panjim was once a hub of malaria: it hardly had potable water for its residents but enough freshwater for mosquitoes to breed in! Today, malaria and several other diseases are widespread. Clearly, 'The Wise Fools of Moira' (cf. Lucio Rodrigues, in Soil and Soul) and their counterparts from other villages – once upon a time, inheritors of a traditional wisdom – had sadly given in to the disastrous model of 'development' espoused by our 'smart' city kids.
It's pertinent to note whether we are becoming smarter or dumber by the day. Or are we just getting "smart" and acting dumb? Looks like there's a method to the madness! Consider how the 'Traffic Safety Week' is religiously observed every year, its main outcome being the sale of helmets and other accessories. Likewise, a water crisis born of laxity and poor accountability generates a super sale of well water and packaged water! As a corollary, eateries make a fast buck – while households remain paralysed, not for any lack of kitchen raw materials but simply for lack of water. Don't these business feats speak volumes?
There's no scorching summer or any disturbing drought, yet a water crisis of sorts.
Goa is fast turning into a land of shocking contrasts – 'joining the national mainstream', as my father would quip. The country is rich, yet the people continue to die in poverty. There's no scorching summer or any disturbing drought, yet a water crisis of sorts. Citizens are fighting an artificial drought, yet those more equal than others have more than enough liquid to swim in. I picked up 70 litres of packaged drinking water from Mapusa and filled up our tanks with 3500 litres of well water transported by tankers, yet on my mad rounds to track down the 'ubiquitous' tanker, I saw restaurants and hotels functioning normally. Shocking contrasts indeed!
To be reduced to breadcrumbs and raindrops is worse than a dog's life. But, unlike Hansel and Gretel, this trail of breadcrumbs won't be washed away by the raindrops!
---