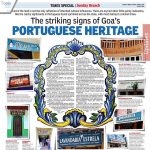 Until 1961, official and commercial signage was, quite understandably, in Portuguese. Some signboards stayed on for a few years after that, as though waiting for the Portuguese-speaking generation to fade away…
If I remember correctly, sometime in the 1980s, signage in Portuguese returned, in a small way though. It probably wasn't practical but surely looked fashionable. The tourism industry was the first to innovate. Hotel Cidade de Goa at Dona Paula and Hotel Nova Goa In Panjim are names that easily come to mind. Quite curiously, the change pointed to a resumption of friendly relations between India and Portugal.
The irony is that by now Goans themselves were beginning to have some difficulty in pronouncing and understanding Portuguese names. The landmark Corte de Oiteiro ('Hill Cut') in Panjim acquired an indigenous form, 'Cortin'; and Rua Afonso de Albuquerque and Rua de Ourém ('rua', street) very funnily turned into 'Rua Afonso de Albuquerque Road' and 'Rua de Ourém Road' — even in official correspondence!
---